DeepTrak™ Case Flow Systems maximize your storage density by putting gravity to work.
The system's flow-through gravity-fed design allows cases placed at the entry end of the system to flow to the discharge end for convenient removal.
As a result, cases and cartons automatically index for accumulation. As cases in different lanes are unloaded, those located behind move forward as replacements.
If the lane, or stock keeping unit (SKU), is empty, the case load moves to the first position.
---
DeepTrak™ Carton Flow
FULL WIDTH Roller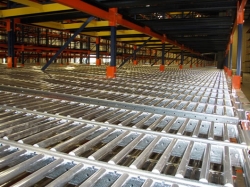 DeepTrak™ Case Flow Storage Systems Offer:
Best component selection to move your product

An affordable price

A proven system
DeepTrak™ Carton Flow
STAGGERED WHEEL Carton Flow
DeepTrak™ Staggered Wheel Carton Flow is a flexible solution designed specifically to accommodate all types of products. When incorporated in a complete system, Staggered Wheel Carton Flow is capable of storing different weights and sizes in the same system.